Training and Resources
for grassroots activists, campaigners, community groups and co-operatives.
We are an activist training co-op providing training and workshops on group and campaign skills. We support people who want to make our world a better and more sustainable place.
We also provide participatory and dynamic training for environmental and social NGOs, co-operatives, social enterprises and charities. Our trainings and workshops are tailor made to meet your organisation's needs.
Have a look at our guides and books which have lots of practical skills and ideas to make your meetings run smoothly and painlessly, not to mention making your campaign or project a success! We cover topics like consensus decision making, facilitating meetings, how to win your campaign, publicity, and taking action. All our materials are free.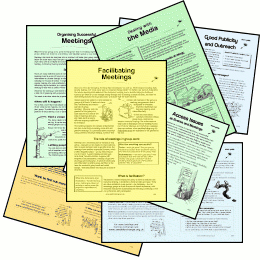 Here are just some of the workshops we can offer - if you want something that's not on this list then ask us - we may be able to help, or know someone who can.
Consensus Decision Making and Facilitation - make your meetings inclusive, creative and effective.
Campaign and action skills, work out a strategy for your campaign.
Co-ops - help in setting up your co-op, work out how to work together, choose a structure, work out your business idea.
Training for trainers - how to plan and run your own great workshops.
We operate a sliding scale for work with organisations with funds or income streams, and on a donation basis to unfunded grassroots campaigners and activists. Please contact us to discuss costs for training or other support.