Facilitation Tools for meetings and workshops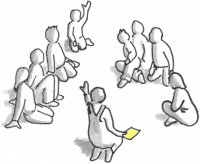 Includes:

Core facilitation tools

Plus tools for:

Introductions and endings

Building trust

Participation and discussion

Tackling issues and resolving conflict

Prioritising and planning:

Quick and easy prioritisation tools

More detailed prioritising and planning tools

Waking up, warming up and winding down

Evaluating

Download the PDF
of this briefing to print out - 1.2M
This is a compilation of tools and techniques that we have found useful for participatory meetings and workshops. We've categorised the tools, but many of them can also be useful in other contexts. Don't be bound by our categories!
We have more detailed information on some tools available on our website, and you might also find it helpful to read our briefings on Facilitating Meetings and Facilitating Workshops.
Here's a few general guidelines for using these tools:
Every group is different: some tools may not be appropriate in a specific group or situation. Don't force a tool on a group or an individual but let people decide for themselves to what extent they want to participate.
Be flexible: don't let your choice of tool dictate what happens, but fit and adapt the tools to the needs of the group. Be creative and invent your own tools.
Use visual aids such as whiteboards. Use them to write down instructions, questions to consider and to record responses from the participants.
Be aware that people might not be happy to share everything that was said in a pair or a small group with all the people in the room.
Do explain the purpose of a tool before asking the group to use it. That way people feel in control of what they are doing, allowing them to participate more fully.
back to top ^